vege2go vegetarian & vegan ready meals delivered in Melbourne
Gourmet vegetarian meals made with love
Only the freshest ingredients
Home delivery (Melbourne Metro)
Vegan & gluten free meals
Just heat and serve
Freeze for up to 3 months
Meal Plans
Coming in 2013!
Got suggestions? Let us know...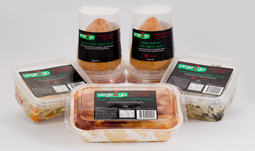 Free Stuffed Capsicum!
Free Stuffed Capsicum with EVERY online order! "Your stuffed capsicums are to live for!" Aaron Scheibner, Producer of A Delicate Balance: The Truth.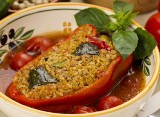 Delivered to your door
Melbourne Metro
$5 delivery (minimum $50 spend)
Check if we deliver to your postcode...
More cooking classes...
Our cooking class "A Very Vegan Christmas" was a huge success, thanks to all who came along!
In fact, it went so well that we're holding more in the future...
If you're interested, contact us and we'll notify you when we organise more!